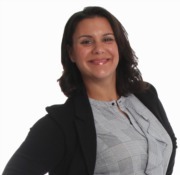 Hi there! I'm Britt and thank you for taking time to get to know me and the Frost Real Estate Team! I am a Licensed Real Agent and the Team's Office Manager. My position handles the Team's day to day operations, allowing our agents the freedom to focus on you and your home buying and selling needs! It is important to me that you receive your agents utmost attention and that's where myself and our support staff comes into play. 
A little about me... I am originally from Milton, Washington. A small town outside of Seattle. I made my way to North Carolina via the US Army. I served 10 years and 3 duty stations with the Army and I wouldn't trade it for anything. My last two stations were Camp Pendleton, CA and Camp Lejeune, NC. My MOS/Job was in Veterinary Medicine, so I was given the opportunity to be stationed on any military base that had Military Working Dogs. It goes without saying that I spent the majority of the military career attached to the Marine Corps! 
My husband, David, our Team Leader, and I met in the Military, playing softball of all things! When it was his time to separate from the Army, he made his way here to good ol' Jacksonville and started his career in Real Estate. When it was my time to decide whether to re-enlist or separate , I couldn't wait for the chance to jump into business with my husband. And here we are, 9 years later, with one of the areas top Real Estate Teams and a career I love! 
I look forward with the chance to get to know you and hope that myself and our amazing Team are able to help you with your real estate needs!